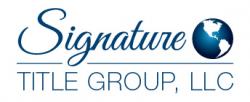 Signature Title Group provides exceptional services at competitive rates and fees. We are able to handle all aspects of real estate transactions and are committed to serving our customer's needs with impeccable service. All settlements are handled through an attorney at closing. Signature Title Group can help you by providing the following:
Team of Knowledgeable Professionals
Attorney Operated
Lowest Title Insurance Rates Allowable by Law
Convenient & Smooth Transactions

Signature Insurance Services, LLC is a trusted partner in providing the highest level of insurance and risk management. We serve as an objective advocate for our clients, conveying innovative and value-driven insurance and risk-management for individuals and businesses.We work to build long-term business relationships with our clients based on doing what is always best for the client.